Honegger & Ibert's L'Aiglon is released on CD by Decca
March 5 2016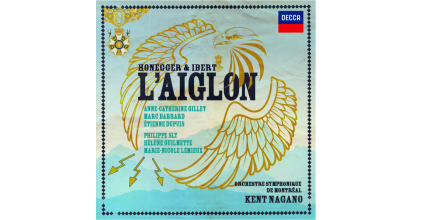 Recorded in March 2015, for the creation of this opera on the north-American continent under the baton of Kent Nagano, the CD of L'Aiglon by Arthur Honegger and Jacques Ibert is released by Decca.
It has received very good press and has been stamped "Diapason Discovery" by the French magazine Diapason.
Marie-Nicole Lemieux sings a "luxurious Empress Marie-Louise" according to Jacques Schmitt (Resmusica).
Musical director – Kent Nagano
L'Aiglon – Anne-Catherine Gillet
Flambeau – Marc Barrard
Metternich – Etienne Dupuis
Marmont – Philippe Sly
L'attaché-militaire – Pascal Charbonneau
Gentz – Isaiah Bell
Prokesch – Tyler Duncan
Sedlinsky – Jean-Michel Richer
Thérèse – Hélène Guilmette
Marie-Louise – Marie-Nicole Lemieux
Fanny Elssler – Julie Boulianne
Comtesse Camerata – Kimy McLaren
Orchestre Symphonique de Montréal
For more information, click here.
• BACK •