Verdi: Falstaff (Mrs. Quickly)
Teatro alla Scala (Milan) | October-November 2015
Quant à la Miss Quickly de Marie Nicole Lemieux, elle est simplement aujourd'hui dans ce rôle la référence : il y a tout, la diction, la modulation vocale avec ces graves caverneux, la précision du détail dans chaque mot, le sens du rythme et l'aisance scénique, délurée, joyeuse. Marie-Nicole Lemieux porte en elle santé et joie communicatives qui lui donnent une présence scénique irremplaçable.
Le Blog du Wanderer, October 31, 2015
Marie-Nicole Lemieux's Mistress Quickly in stunning, well-placed timbres. The mezzo victoriously trod the thin line between buffo and commedia lirica during her "Reverenza" Act II flourish.
Courtney Smith | Bachtrack, October 16, 2015
La Quickly de Marie-Nicole Lemieux, ensuite: cette authentique bête de scène, au sourire toujours aussi malicieux, déploie son mezzo glorieux dans ce rôle qui lui convient à la perfection.
Sébastien Foucart | ConcertoNet, October 14, 2015
Marie Nicole Lemieux è ottima attrice, crediamo forse la migliore del cast femminile sotto il profilo della resa scenica; voce adeguata al ruolo e di bel colore.
Pietro Gandetto | L'Ape musicale, October 21, 2015
La Quickly di Marie Nicole Lemieux, che sfoggiava un cappello a forma di enorme pignatta floreale, è stata irresistibile per comicità. La sua voce possiede una bella corposità di suono e di timbro che ha trovato accenti particolarmente convincenti nella scena del primo colloquio con Falstaff.
Lodovico Buscatti | Operaclick, October 16, 2015
Una altrettanto vivace Marie-Nicole Lemieux, irresistibile Quickly.
Luca Chierici | Il corriere musicale, October 15, 2015
---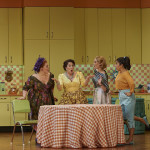 Canadian Opera Company (Toronto) | October  2014
But without a doubt, the stand out was the irrepressible Dame Quickly of Marie-Nicole Lemieux. One can easily see why the Québec contralto has had such an enormous success in Europe with this role, having sung it in London, Milan, Paris, and Vienna. Her repeated obeisance to Falstaff – "Reverenza!" – is worth the price of admission alone.
Neil Crory | Musical Toronto, October 6, 2014
And what can one say about Marie-Nicole Lemieux's droll and unusually youthful Dame Quickly, except to say that her rich contralto and comic timing are priceless?
Joseph So | La Scena Musicale, October 5, 2014
But Marie-Nicole Lemieux went the extra mile as Mistress Quickly, adding a broad and energetic humour to her gorgeous voice.
Robert Harris | The Globe and mail,  October 4, 2014
The other dominant part is that of Mistress Quickly, a role that ideally suits Marie-Nicole Lemieux's bubbly personality and characterful voice. (And here is another welcome return – she was last here in Rodelinda back in 2005.)
Michael Johnson | ConcertoNet
---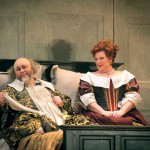 Opéra de Montréal | November 2013
Quant à Marie-Nicole Lemieux, elle campe une Mrs. Quickly qui a du caractère, efficace, drôle mais c'est surtout la qualité de son chant qui est à retenir. Son timbre riche de contralto fait des merveilles. Une voix unique, reconnaissable parmi toutes. De plus, elle a le diable au corps et c'est elle qui mène le jeu. Retenons la première rencontre avec Falstaff où elle n'hésite pas un moment à se glisser dans le lit de sir John ! Hilarant !
Jacques Hétu | ResMusica, November 12, 2013
Marie-Nicole Lemieux lui vole presque la vedette en Mistress Quickly, l'entremetteuse qui mène l'action une bonne partie du temps. Notre mezzo, dont l'authentique couleur de contralto s'affirme de plus en plus, est toujours comique, mais elle l'est finement, sans la moindre vulgarité, même lorsque le metteur en scène la fait monter dans le lit de Falstaff.
Claude Gingras | La Presse, November 10, 2013
---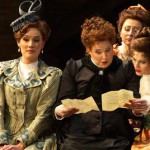 Opéra National de Paris | February 2013
Autres débuts – sur la scène de l'Opéra, du moins – ceux de Marie-Nicole Lemieux dont la Mrs Quickly a déjà séduit par deux fois le public du Théâtre des Champs-Élysées, en 2008 et en 2010. La contralto québécoise, qui possède une vis comica innée, ne fait qu'une bouchée de ce personnage dont elle livre avec délectation une incarnation haute en couleur pour la plus grande joie du public. La voix est homogène et le grave opulent.
Christian Peter | Forum Opéra, February 27, 2013
Ainsi la Mrs Quickly de Marie-Nicole Lemieux, réussit admirablement son coup, offrant sans doute au public de Bastille les meilleurs moments de chant de la soirée.
Patrick Georges Montaigu | ResMusica, March 5, 2013
---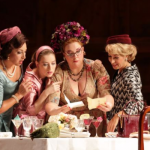 Teatro alla Scala (Milan) | February 2013
Marie-Nicole Lemieux è una Mrs. Quickly dalla splendida voce, tonante nel grave, ed è campionessa di ironia nella disinvoltura scenica da esperta attrice brillante.
Francesco Rapaccioni | Teatro.it
La Quickly di Marie-Nicole Lemieux, comicamente autorevole nella sua parte di «Mercurio-femina», è magnifica sia nella recitazione sia nella voce
Michele Curnis | GB Opera
La canadiense Marie-Nicole Lemieux fue una estupenda Mrs. Quickly, en una actuación muy divertida, en la que saca un gran partido de su orondo físico. Era evidente que se divertía y eso siempre se nota por el espectador. Vocalmente, es muy adecuada para el personaje.
Jose M. Irurzun | Beckmesser, February 6, 2013
---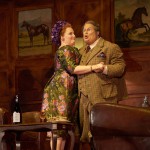 Royal Opera House, Covent Garden (London) | May 2012
It was left to the sumptuous contralto Marie-Nicole Lemieux to deliver the evening's one truly successful performance as a goggle-eyed Hattie Jacques of a Mistress Quickly.
Rupert Christiansen | Telegraph, May 16, 2012
Marie-Nicole Lemieux (Mrs. Quickly) tiene testa a Falstaff: intrigante, ironica, ha una voce rotonda e ruba la scena alle altre.
Benedetta Saglietti | Il Giornale della Musica, May 15, 2012
while Mistress Quickly, fearlessly and comically overplayed by Marie-Nicole Lemieux with fruity voice and un-shy cleavage, steals the show. No one else would get away with it.
Fiona Maddocks | The Guardian, May 20, 2012
Devenue indissociable du rôle de Mrs Quickly, Marie-Nicole Lemieux rayonne une fois de plus d'humour et de présence.
Chantal Cazaux | L'Avant-scène opéra, May 14, 2012
Marie-Nicole Lemieux gave a robust performance as Mistress Quickly; the scene in which she tackles Falstaff at the Garter Inn was hilarious.
David Karlin | Bachtrack, May 20, 2012
• BACK •